Our Family

"Our Family"

Our Family

- Family Owned & Operated -

In 1975 Bill and Kathy Bruere started Bruere Farms and committed themselves to farming America's heartland. Over the years, both their farming operation and their family have grown. They have raised their two sons, William and Stephen, in a traditional family farm atmosphere. William and Steve are very involved in the farming operations and are committed to growing the family farm. Bruere Farms is proud to still be family owned and operated.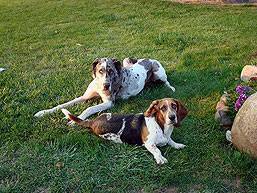 Bill
Bill has been farming since 1975 after his father died. He is very dedicated to farming as well as selling seed. The two have complimented each other very well. Hekeeps up on the very latest through Corn College and CCA meetings, but can apply his hands-on experience from farming as well. Bill raised his sons with the hope that some day one of them would take over the farming operations. Now that his kids are grown he has turned over a large portion of the farming operation to his son, William, and now spends the bulk of his time as a Seed Rep. He has been selling for 35 years, and is also CCA Certified. During the past 35 years Bill has acquired a great amount of knowledge about agriculture as well as agronomy; both of which he is able to use to further benefit his seed customers. Despite Bill's full commitment to seed sales, he is still able to escape and help his son William in the field. With the family involvement in all of the operations, when Bill is in the tractor, he is still only a phone call away.
Kathy
Kathy grew up in near by Indianola where her father owned and operated the local farm machinery business. While growing up, Kathy worked for her father in many areas of the business.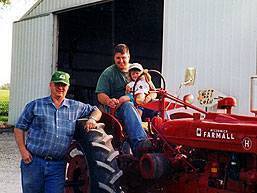 After marrying Bill she became involved in the farm full time with her husband. She currently does all of the bookkeeping for their farming and trucking operations, as well as running the tractors when needed. Kathy's biggest job though, is helping run the seed warehouse and coordinating the household activities.
William
While growing up, William developed a passion for farming. He always followed his dad around and helped out in any way he could on the farm. He has inherited his father's love for farming and is now farming some of his own land. William is the proud father of Brianna, age 17. She seems to have inherited her father's love of farming, as one of her first words was "tractor".
William is currently seeking land owners that are in need of his farming services. His heart has always been with farming and he is looking to expand when opportunities present themselves. He received a degree in Ag-Business from DMACC in 1997.
Steve
Steve is the youngest son. He graduated with a degree in Marketing from the University of Northern Iowa. Steve is an owner of Peoples Company and established the Land Expo held in Des Moines annually. Steve and his wife, Nikki, have two sons, Blake (11), and Brody (9), and two daughters, Bricia,(7) and Brynna (5).